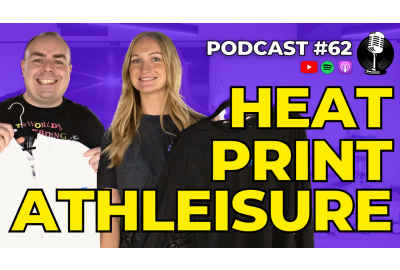 How To Heat Print Garments for the Athleisure Market
Season 10 of The Garment Decorators Podcast kicks off with:
How To Heat Print Garments for the Athleisure Market
Andy and Molly are thrilled to be back and are kicking the season off talking about one of the biggest growing markets in the industry.
The Athleisure Market.
With significant growth over the last few years and no signs of slowing down, if you haven't considered offering athleisure products as a garment decorator, now is the time.
In this episode, Andy touches on just how retail-focused the latest TriDri garments actually are. Gone are the days of producing boring blank garments ready for design. He admits to seeing the leading athleisure blank apparel manufacturer, TriDri, literally everywhere he goes. The attention to detail with user-focused elements like zips and pockets help these garments to be extremely purchasable. Garment decorators build their brands, then rebrand the Tri-Dri blanks and turn a £9-10 blank hoodie into a premium garment that's being resold at £35-45 each. Molly admits she has seen very similar garments on mannequins in popular stores such as Nike and Adidas on the high street.
After a quick look through their website offerings, it's very easy to see why TriDri are one of the best athleisure blank manufacturers in the UK & Europe.
Check out the full podcast below for more!
Stahls' UK is teaming up with TriDri to bring you the only event in 2023 dedicated to Athleisure.
Tickets are free but selling out fast, secure your space HERE.
Learn from the world's leading suppliers of blank athleisure garments, decorating machines, and materials.
You will learn how to decorate a wide variety of athleisure garments, including trending styles, designs, and print opportunities. This includes Custom Heat Transfers, 3D effects with Heat Transfer Vinyl, and placements that will make your products stand out from competitors. You will also understand all aspects of production costs and recommended selling prices so that you can start, run, and grow a successful garment decoration business.