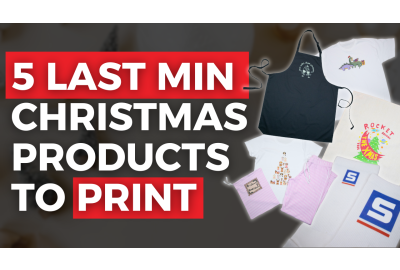 5 Products You Can Still Make In Time For Christmas 2024
Christmas 2024 is FAST approaching.
If you dropped the ball this year, don't worry! There is still time to make and market heat-printed Christmas products, you just need to act NOW.
UltraColour Max Heat Transfers from Stahls' UK have the quickest turnaround for heat transfers in the country. They're a Direct to film heat transfer type with a minimum order of 1!
Order one day and they will be dispatched the very next day. This means you can mock up your product designs, list them online and then place your transfer orders when you know the demand you have from your specific audience.
But how are you going to mock up your designs in time?
Use our free Christmas Design stock library. We've got over 30+ brand new 2023 Christmas heat transfer designs that you can use to make Christmas products. Simply head to Easy View, select UltraColour Max heat transfers, pick your size of sheet and then you will have access to our entire stock library free of charge.
Quick, lets recap:
List your products, wait for the orders to come in and then order your transfers. They'll arrive quickly and you can press your products and have them out the door arriving to your customer within a couple of days.
Now all you need is some inspiration!
What are the best last-minute heat-printed Christmas gifts?
1.
Christmas Pyjamas.
Christmas Eve boxes have become extremely popular over the last 5-10 years and they always include a fresh set of Christmas Pyjamas.
What's a Christmas Eve box we hear you ask? A box filled with Christmas treats that adults and children can use and wear as a pre-Christmas treat to get them in the festive spirit.
We bought this Adults Christmas pyjama set with a t-shirt, bottoms and a matching gift bag from Towel City on Ralawise.com for £9.95. This set comes in a Pink and Grey colourway, but there are lots of other blank pyjama choices on there for adults and children too.
Stahls' stock transfer designs used:
Dog-Mas Tree
From Me, To Me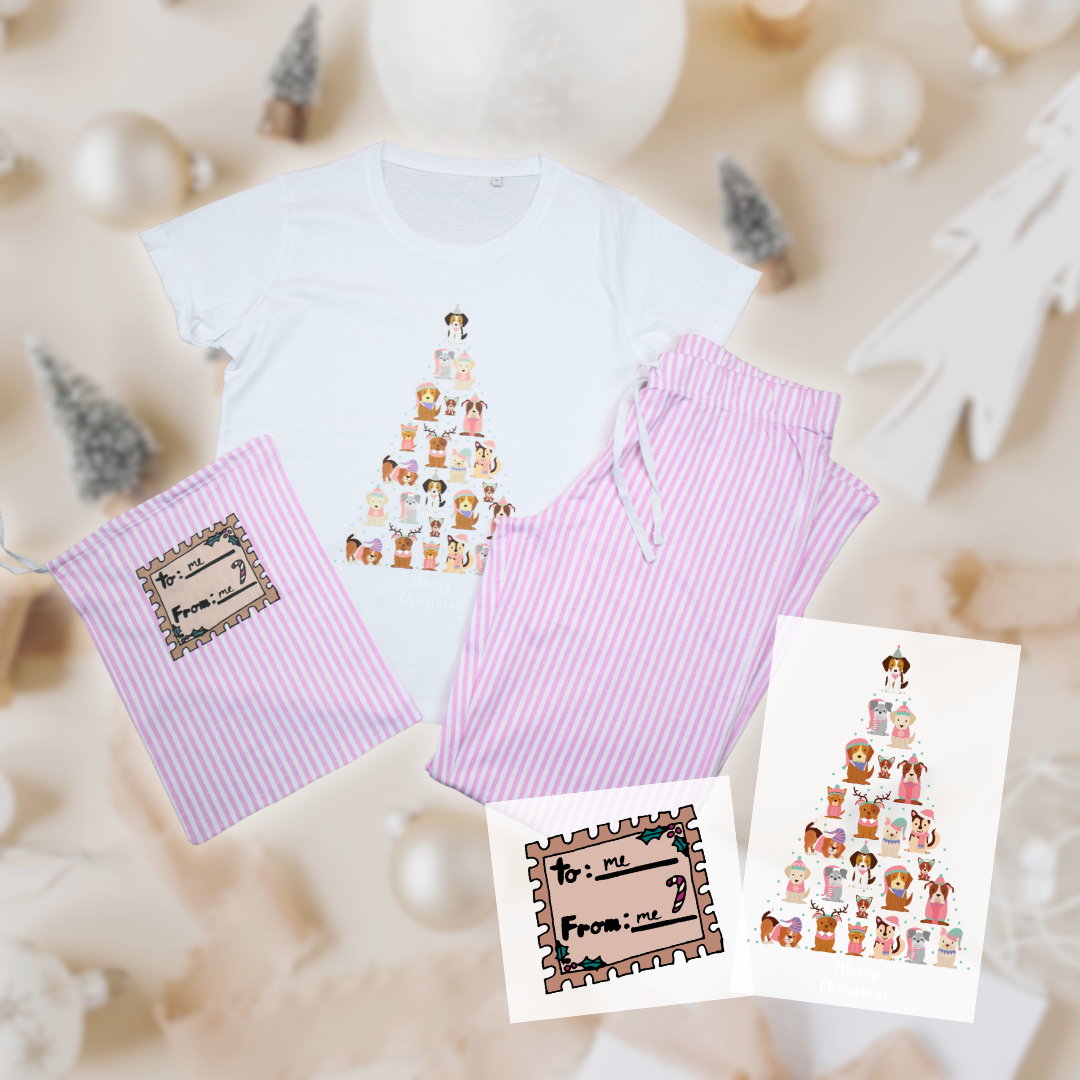 2. Christmas Apron
It goes without saying that Christmas time includes a lot of baking sweet treats and drinking festive tipples.
That's why this combination is an instant win.
A festive apron is perfect for all ages and you could even go as far as to print matching ones for parents and children too.
We bought this black adult apron from Premier on Ralawise.com for just £4.50.
It comes in an amazing 50 colourways which means you can really turn heads with some creative design designs and make your products stand out from the crowd this year.
Stahls' stock transfer designs used:
Save Water Drink Prosecco
3. Custom Tea Towels
Keeping with the festive baking and kitchen cooking theme, why not print a custom tea towel to mop up those Christmas messes with?
A tea-towel is a kitchen staple all year round with many people purchasing specific kitchenware for the month of December.
This specific tea towel is from Westford Mill on Ralawise.com and cost us just 50p!
It's 100% cotton so it will wash and wear for years and years to come. It's available in 5 different colours, Black, Natural, Peach, Grey and White meaning there is a colour for every client's kitchen.
Be warned, these tea towels are LARGE! 50x70cm in size, they will take a large transfer to fill or perhaps you can add some Christmas typography down an edge for a space-saving choice. But luckily, due to the low cost of a blank itself, you can afford a little extra cost when it comes to your heat-applied decoration choice.
Stahls' stock transfer designs used:
Rocket Around The Xmas Tree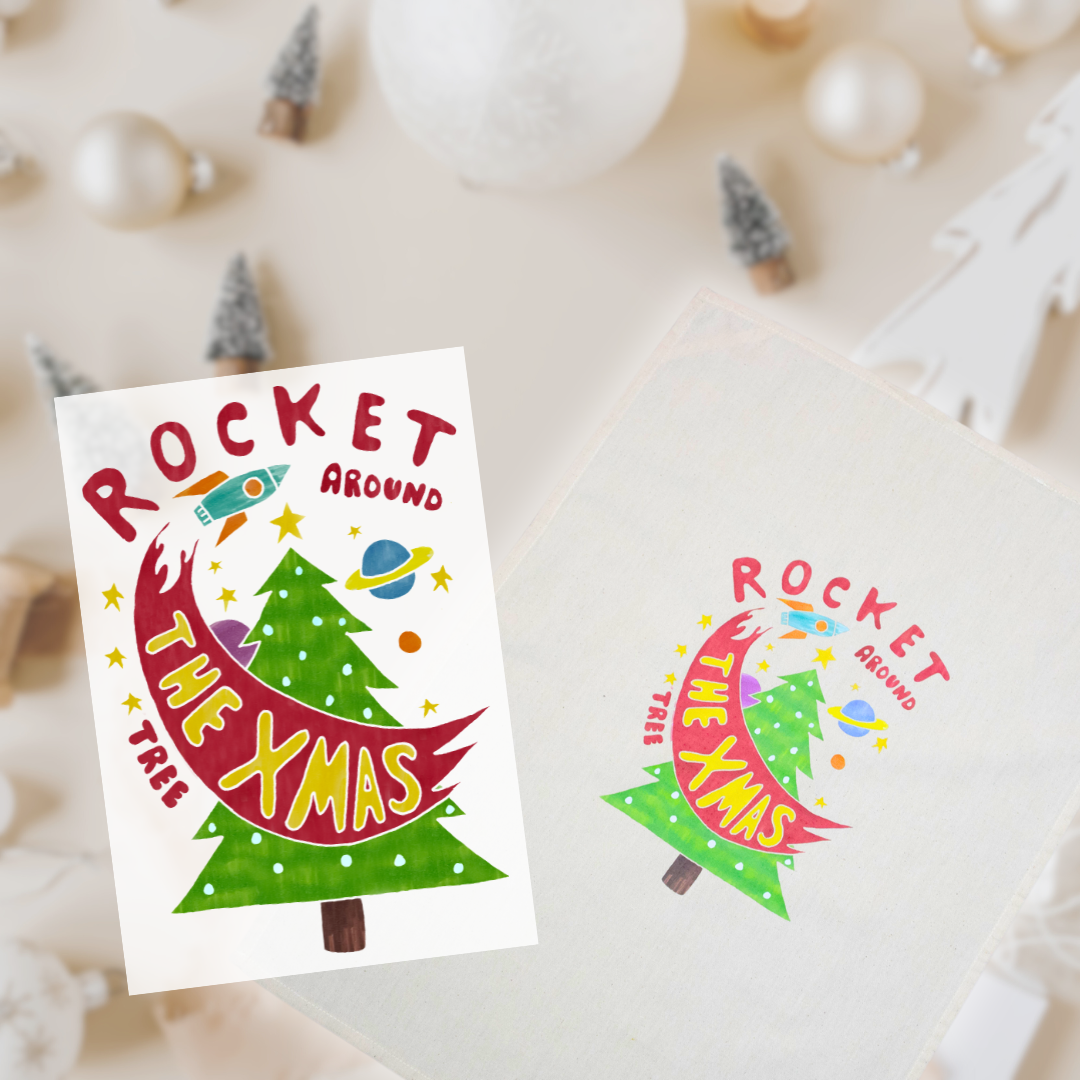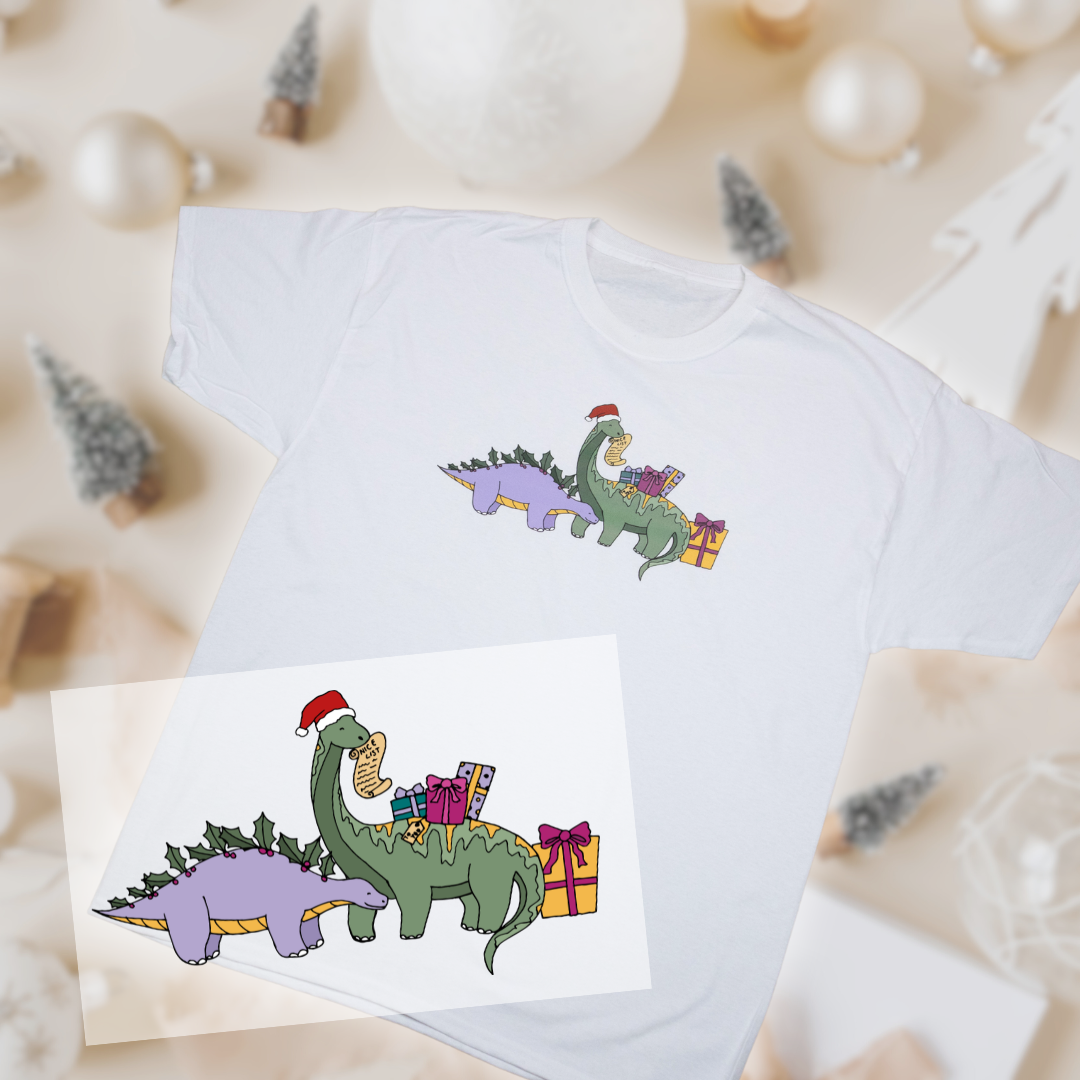 4. Christmas Tshirts
Christmas Jumpers are worn and loved by the masses through December, but what is being worn underneath them?
There is an enormous market for Christmas Tshirts during the festive season. You could even bin off jumpers altogether and undercut that market with a lower-cost tshirt alternative.
We purchased this Bella+Canvas 3001 T-shirt for just £3.48 from Ralawise.com. In comparison, a hoodie or a sweater blank comes in at a £9-11 price point which is a significantly higher purchase price for your business.
Christmas t-shirts are a great casual piece of clothing too so it's likely your consumer will buy a couple of these for the whole month.
Imagine: Your t-shirt costs £3.50, your transfer costs up to £1, your sale price is £15. You've made over £10 profit per shirt and it's still considered a lower-cost piece of festive merch.
Stahls' stock transfer designs used:
5. Custom Socks.
Look, we know this example doesn't have Christmas designs on them, but they so easily could!
A simple Christmas Pudding or Christmas Sprout design and you could be competing with the likes of OddBalls or Happy Socks for festive stocking fillers!
This pair of socks are from Build Your Brand on Ralawise.com and they come in black and white and cost just £1.45! Competitor brands are selling Christmas Socks at £10-12 a pair. Just think of the profit!
Or you could go down the personalisation novelty route by heat printing custom pets or faces onto them!
The possibilities are endless!
Yes, you should've started earlier, but all is not lost.
Ralawise.com and UltraColour Max Heat Transfers all dispatch the next day meaning if you get started right NOW, you've still got time to bring in extra Christmas revenue for 2023.